Augsburg University Spotlight Article
By Cheryl Crockett, Augsburg University Class of 1989
March 28, 2019
Minnesota Art Takes to the Road
Picture yourself in your favorite Minnesota town, enjoying one of those great community festivals—relaxing while you peruse a wide range of art and crafts for sale, connect with old and new friends, and discover some remarkable local talent. Who doesn't love those festivals? What may surprise you is that you may be doing all this while standing inside the Minnesota Art Truck!
Instead of expecting you to go to a museum or store to find a piece of art to your liking—which may or may not be original or fit your budget—Matt Swenson '91 has found a way to turn the tables and let Minnesota art come to you.
In 2018, the first full calendar year of his new business, Swenson took his MN Art Truck to 90+ events throughout the state, providing a unique shopping opportunity for not only the local residents seeking unusual and affordable art, but for artists seeking a wider audience for their creations. And by "art," we mean much more than old paintings and marble busts. Swenson finds artistry in jewelry made from flatware, digital illustration, wooden jewelry, wire sculptures, every type of painting, doodle drawings, coloring, writing, calligraphy, fiber work, handmade paper, photography, screen printing, T-shirts, fused glass, ornaments, greeting cards, pillows, alcohol ink, metal work, welding, and stained glass, to name a few.
As Swenson searched over the years for the perfect creative outlet for his own art, the ideal medium kept eluding him. Then, about five years ago, he was introduced to "assembled art," which combines two disparate objects into a new form—say, perhaps, a robot automaton made from some cast-off item from yesteryear. That was it—the medium for which he had been searching! And the art form continues to give him amazing joy and fulfillment to this day.
Many Artists and a Truck
As Swenson connected with more artists, he realized how difficult it is for most of them to connect with consumers. He decided to "steal a page from the now-booming food truck phenomenon" and sell art from a truck—more specifically, original local art displayed in a friendly, welcoming truck.
Earlier, when Swenson had reached out to galleries in hopes of forging some kind of partnership, he was disappointed to find very little interest in anything that wasn't "fine art." By contrast, when he took his MN Art Truck to communities across the state, he discovered that people—rural and urban— found his unusual sculptures appealing and were willing to purchase them—even people who weren't his relatives. They seemed to find his art more approachable and less intimidating than some traditional art forms can be. He has also been gratified that his "nutty sculptures" have been accepted in juried Minnesota art shows, and have been part of three different curated art exhibits. Some have been purchased around the world, and others added to some permanent corporate collections.
As an Augsburg student, Swenson had gained invaluable practical business experience, particularly through internship programs—which served him well in this unique business venture. But, even more importantly, he had learned how to recognize important areas of interest for him that were underdeveloped, and then move to develop them further.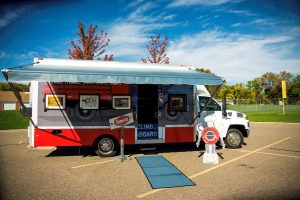 Running a mobile business meant plenty of new learning experiences for him—finding the right truck, getting it DOT-approved and roadworthy, and setting it up per his business model. Securing insurance was tricky since insurers are accustomed to insuring a fleet, not a single truck. Then, of course, he needed to find artists who wanted to have their art onboard, and then schedule events. He took on every event that came his way.
But no business is likely to move forward unless there are good ways to get the word out, and in this case, to convince Minnesotans that it's okay to climb aboard a truck and try out this new model for buying original art. Some of the best responses to the MN Art Truck have been found at rural art and book festivals, farmers' markets, wineries and breweries, and corporate "Art Stop" events. There has been moderate success using Facebook to spread the word, though word-of-mouth communication seems to be the most effective—artists sharing success stories within their peer groups, satisfied customers telling friends, businesses posting notices, etc. In 2019, Swenson will be partnering with new local groups, such as The Loft, LOLA Art Crawl, 4 Angels Creations, Dundee Floral, Anoka Food Truck Festival, and Holidazzle.
Looking Long-Term
Swenson is thoroughly enjoying his vocation and wants to franchise the Art Truck concept across the country. Doing so, however, will require profitability so that the endeavor doesn't simply become a hobby. Though many of the artists whose work he carried on the truck enjoyed success last year, Swenson knew that his numerous start-up expenses would make profitability in 2018 much less likely for him. Now, with those expenses behind him, profitability in 2019 looks promising. Since he and his wife are currently covering the costs of the operation from their retirement and their daughter's college funds, a banner second year would be a blessing.
Swenson's hope for 2019 is to find a corporate partner that would like to support local arts, and could make use of Swenson's business and marketing background—maybe something, he says, like the "Explore Minnesota Art Truck" or "General Mills Art Truck." Minnesota artists of all stripes would certainly benefit! And think of all the communities that could enjoy original Minnesota creations!